On Wednesday I had the absolute pleasure of seeing the matinee of Wicked on Broadway. It was my second time seeing the show, the first was on a school field trip in March 2005, and this time I brought my parents to see what I've been talking about for the past year and a half. And I must say, it was just simply amazing. Eden Espinosa and Kate Reinders...there are not enough wonderful words. The whole performance was just incredible, and I love this show now more than ever, if possible! And ironically, I thought that seeing it again would "satisfy" my for a while at least, but now I just want to go again and again!
And I also got to go to the stage door for my first time, after the matinee we weren't too successful since only Derrick Williams came out, but we went back at night and I got to meet Eden and many of the other cast members, AND...-drumroll- MEGAN HILTY! Seriously! It was the most randomly awesome part of the night! The whole story is under the stage door cut. :D
Enjoy!
Well, we got to the theater early, around 1:30. There were already a decent number of people inside milling around, so I went in and first I was thrilled to see that Eden and Kate were indeed performing! The only understudy was Gaelen Gilliland for Madame Morrible instead of Carol Kane. I was very happy to see this because last time I say the standby for Elphaba, and even though Saycon was great, I was really looking forward to seeing Eden after hearing so many wonderful things.
So then I spent a very large amount of money in a very short amount of time on a poster (for autographing at the stage door and framing later), a green stuffed monkey, a program, and the 3 bracelets, black one says "Defy Gravity", pink one says "Popular", and green one says "Wicked." I put those on immediately. I was in total fangirl mode: my Defy Gravity shirt, green flip flops, green nails, the works. I was so excited.
So then we went upstairs and waited a while until they opened the doors to go in, and I proceeded to get even MORE excited when I saw our seats! Orchestra Row F on the left, and omg, they were closer than I had even imagined!! I was like, freaking out, considering the first time I saw Wicked I was back in row W! My parents were also very impressed by the seats, but I think they were still thinking I was a little strange for practically shaking with excitement, lol. Just being inside the Gershwin again made me so happy.
So okay...onto the performance!
Cast
Eden Espinosa as Elphaba
Kate Reinders as G(a)linda
David Garrison as The Wizard
Derrick Williams as Fiyero
Jenna Leigh Green as Nessarose
Robb Sapp as Boq
Gaelen Gilliland as Madame Morrible
Sean McCourt as Dr. Dillamond/Witch's Father
I have so much I want to say! First I'm going to go song by song and then I'll fill in other comments at the end.
No One Mourns the Wicked:
Awesome, awesome opening as always! My heart literally started pounding when the show began! There actually wasn't much applause when Kate came down in her bubble, only me and a few other people clapped, it was probably so early that people were just caught off guard. But the first thing that struck me about her was how TINY she was! She was absolutely adorable, really, really petite! And let me just say, she sounded AMAZING on this song, especially the high notes. She just floats right up there nice and light and clear and just beautiful sounding. I was immediately impressed. So I guarantee you, anyone who goes into the show with any reservations about Kate, you will be completely convinced by this song alone.
Dear Old Shiz:
Now, when Eden came out, people went crazy. Really great applause. She was great from right off the bat. Besides her phenomenal singing voice, she is truly a great actress, and played Elphaba SO well. And Kate looked even MORE adorable in her white outfit and she really showed how funny she was for the first time. She had the audience in stitches for much of the performance, she was just so bubbly and adorable and every once in a while she would just let out a high pitched shriek of excitement! It was so cute.
The Wizard and I:
Eden owns this song. She really does. What I loved was how much she made it her own, all the little riffs and touches she added in really did something special. And her voice is just PHENOMENAL. She can belt like crazy. The last note of this song was just awesome, and she held it for so long of course. It brought down the house. And Gaelen also proved to be a very good Morrible, her voice was clearer than most I've heard in the past. But this song was definitely a highlight, and Eden really portrayed Elphie's excitement so well. I couldn't say enough wonderful things about her.
What is This Feeling:
LOVED IT. Eden and Kate were hilarious together on this. After Kate delivered her "unusually and exceedingly peculiar and alltogether quite impossible to describe" (and sung very quickly, I might add! It was really funny) Eden just stared at her and there was this really drawn out pause, you could have heard a pin drop. Then she just completely deadpanned the "Blonde." Tons of applause, it was just perfect. The two of them really sounded great together, and this song was definitely a crowd-pleaser as always.
Something Bad:
Sean McCourt was a great Dillamond, and as always his "b-aaa-aaaa-ds" got a great crowd reaction. He and Eden worked well together on this. Very, very good.
Dancing Through Life:
Derrick Williams has a great stage presence. He was great from the moment he came in. There were a few moments where his voice didn't sound like anything super impressive but often he would just nail a note and it would be like, "wow." Robb Sapp was also adorable as Boq, especially when Kate kind of accidentally touched him and he did the "she's touching me!" and completely fell back on the stairs. It was hilarious. Derrick and Kate worked well together on this. So did Jenna and Eden, although I feel that from her part in this song you really couldn't tell how vocally talented Jenna is. Eden's awkward dancing was GREAT. I love that girl. And when Kate joined in, it was just a really touching moment. You could completely feel the change in the atmosphere as they started to become friends. And the ensemble was great, with the dancing and all.
Popular:
I love Kate. My God, I don't know how that girl has so much energy! She bounced around for the ENTIRE song, just so perky. She seemed to do a lot of it half-spoken or with the excited little shrieks I mentioned earlier, so again this was far from the best showcase of her voice, but it was the best showcase of her humor. And OMG, the toss-toss was definitely a highlight of the show, especially Eden's version of it! <333 But this song got some really great applause, the crowd absolutely loved Kate.
I'm Not That Girl:
Wow. Eden is absolutely amazing in the low range. So strong. On the last note, it was almost shocking how dark and deep it sounded. And her acting was superb, she really showed Elphie's sadness. And she and Derrick had great chemistry from their first scene together, so that really helped to bring out the whole "love triangle" aspect right away.
One Short Day:
It's always just thrilling when everything lights up in green. This song was really good, one of the best renditions I've ever heard. The ensemble was great and Kate and Eden just sounded awesome together.
A Sentimental Man:
David Garrison was great as the Wizard. He was a really good dancer and of course his voice was great. The way he sang the songs really reminded me of Joel Grey actually, he didn't do as much to make it his own as Eden or Kate or anyone else really, but he was still really good, and you could tell the crowd loved him. And Eden was excellent in this scene as she realized that everything she had believed in was wrong. Her face was just so expressive.
Defying Gravity:
My heart started pounding again when this song started, since it's my favorite! Eden started out really heartbroken, on the "I don't want it," she really sounded choked up and really emotional, and then she gained strength through the song. A highlight was definitely when Eden and Kate sang together, they both just hit every note perfectly and sounded fantastic. And of course when Eden started to fly with "It's MEEEE!" The crowd went wild clapping right in the middle of the song. The whole last verse was AMAZING. She just belted it out with everything she had, and she did some really cool riffs and variations. Again, I got serious chills at the end while she held the final note forever. And it was great to look at my parents' faces, it was their first time seeing Wicked, and as I expected when the lights came on for intermission they were just completely awestruck. My mom has seen several shows on Broadway with me and she agreed definitely that it was the best ever, and so did my dad, although this was only his second show, not that that matters. But anyways, I'm getting ahead of myself now. So, onto Act 2!
Thank Goodness:
Kate was great in this. As Glinda matured she played the part accordingly. But first, one thing I want to mention, I am almost positive that when I saw the show with JLT as Glinda in March 2005 that she sang the song from ON the bridge. But for Kate they had like a little platform with stairs that they set up under the bridge. Interesting. But anyways, she sounded fantastic on this song. I really do think that the high notes are one of her great strengths, she just sounds lovely up there. And of course she had her funny moments in this number too, especially with Derrick. The ONE slight criticism I have to make is that the "Thank Goodness!" (after "we love you Glinda if we may be so frank") was a LITTLE weak, she didn't really belt it like Kristin and JLT, just sang it really. But everything else was just great.
Wicked Witch of the East:
Okay, I think it's a shame that Jenna only got to show off her fabulous voice for so short a time. I mean, no one had really gotten a good picture of what she sounded like until her solo high belting part in this song, and it was just amazing. She is a really good Nessa, both with the acting (she was great when Elphie made her walk!) and the singing. My favorite part was when she sang "the wicked witch oooof the eaaaast", she just sounded so good and you can definitely see how she could be a good Elphaba! Plus I thought it was cool because I used to watch her on Sabrina all the time when I was little, heehee. And Robb Sapp was great as Boq, and it was really fun to watch and listen to the audience's reactions when he turned into the Tin Man. So many people don't see that one coming. And Eden! From this song on she played Elphaba much more solemnly, much more mature, and SO MUCH DARKER. When I saw Saycon before I did not feel like that so much, but Eden was so dark at times during Elphie's descent in the second act that it was almost scary! It was really impressive.
Wonderful:
Again, great song. David and Eden worked well together, and David did some great little dance moves. One thing I noticed, I honestly don't remember if it's always been like this, but unlike on the OBCR they sing another little part after they dance together before the song ends. It was interesting.
I'm Not That Girl (Reprise):
Okay, yes Kate went up on the last note. I know that's something people always ask. For her that was really a wise choice because as I've mentioned, she sounds lovely in the high range.
As Long as Your Mine:
One word: HOT! Wow, the chemistry between Derrick and Eden was just radiating off the stage. This whole song was just plain sexy and passionate! I love this song, and they did an incredible version of it that I absolutely adored. One thing that I noticed was that on the last verse and most notably on the last note, it sounded like they sang up the octave. But it sounded great! I really loved this one, another thing I'd list as a highlight. And Eden's "For the first time I feel....Wicked." was just beautifully delivered.
Cornfield Scene:
Kate's kung-fu moves with the wand were hilarious. Love her. And of course Eden's spiteful "well we can't all come and go by BUBBLE!" was met with applause and cheers. These two were just great together.
No Good Deed:
Quite possibly THE highlight of the entire show. Eden OWNED this song. Her best performance of the night. She was just amazing from start to finish, again she really played Elphie very darkly (especially at the end of this song!) so much it was almost frightening in a good way, but still perfect and it really showed what she was going through. She did some really really cool riffs on this song. On the last line she sang it like "Aaaaaah-ahhhhh-ahhh-gain!" instead of "ah-gaaaaaaaaain!" like Idina on the OBCR. It was awesome. But I mean, just wow. There are no words. -bows down to Eden-
March of the Witch Hunters:
Not much to really say about this one. Great, like the rest of the show, but nothing that really stands out.
For Good:
-tear- This was the closest I came to crying, as it was last time. They really did a very beautiful version of this song, so much emotion and heart were put into it. Again, there are no words, just stunning.
Finale:
It was so funny to watch people's reactions to the trap door! Heehee. It's like, "come on, you don't REALLY think they could let it end like that, right?" But this was an excellent closing to an excellent show. Just amazing!
One thing that I think really speaks for the strength of the supporting cast was that a good percentage of the house was on it's feet long before Eden and Kate even came out, which is of course when the standing ovation was completed. They were so cute, they came out together, bowed, and then they hugged.
There are not enough wonderful things to say about this performance. It was just as close to perfection as it could have been for me. And with the combination of it being my second time and having the close seats, I feel like I got a lot out of it. Even the little things, like noticing how every time Kate got in the bubble someone would go behind her and clip her in. Kate and Eden were both just phenomenal. Okay, I'm gonna shut up because I could literally go on all day about them! But anyways, onto the stage door!
Well, as soon as the show was over my dad and I ran out to the stage door. They had already set up the barricades and we were the first ones there. I had never done stage door before, and I knew that since it was a matinee there was a good chance that not everyone would come out, but I was hopeful. On the way in we had noticed a flower shop right down the block, and my mom offered to go get me flowers to give the performers. I had her get something green for Eden and something pink for Kate. She ended up getting really gorgeous cala lillies, one thing of green and one of pink. Anyways, there was a decent number of people that gathered at the stage door. A bunch of random musicians and ensemble people came out, almost every single one talking on a cell phone, and they all kept walking. Then Derrick Williams came out! When he first came out he kind of just stood there (he was actually really quiet in person, despite being so larger than life and outgoing on stage) until my dad said "Derrick" and he looked happy and came over and signed my poster and my playbill and then he posed for a picture with me and we told him we loved the show.
So anyways, about five minutes after Derrick finished, the guard guy standing by the door came out and said "sorry, no one else is coming out today folks." Everyone was a little disappointed. But thankfully my dad read my mind and offered to go back with me after the night performance, so I was happy. :D
So then we went back at night. We got there around 10:40, armed again with the flowers, poster, playbill, and camera. We were the first ones there for a second time and got a great spot right opposite the door. When the show let out a LOT of people came over! The crowd actually got to about 5 people deep most of the length of the 5 barriers. Some of the people in the back didn't ask for autographs, I think they just wanted to watch. But I was happy to have a good spot!
The first person to come out was David Garrison. He smiled really wide at everyone and we all said hello. He signed for everyone and posed for pictures and everything. There was a little girl near me with a "Popular" t-shirt on and he said to her "I like your shirt, where'd you get it?" it was cute. And then my dad said "Shouldn't it say 'wonderful'?" And he laughed and said "I'm working on that!" :D
Me and David Garrison (I look pretty bad in these pictures, it was a long day and very hot out, so I felt really gross)
The next person to come out was Robb Sapp. He had on a t-shirt that said "I'm a mess", which everyone loved. He was REALLY cute in person and again, super friendly. He chatted with people as he signed and posed for pictures. And I just found out today that next Sunday, August 6th, is his last show, so I'm glad I got the opportunity to see him perform and meet him.
Me and Robb Sapp
And THEN...the most random and completely cool part of the experience! A bunch of people came out at once, a couple ensemble people ducked out and then Derrick was standing there hugging a brunette girl. And she looks up and I nearly died right there because it was MEGAN HILTY! I would recognize her anywhere! She looked adorable, her hair was really dark brown and up with a clip and she had on a white halter top and shorts. The girl next to me recognized her at the same time I did, but she regained her composure a little faster and called her over. Megan looked genuinely surprised to have been recognized, and when the girl asked her to pose for a picture she said "I'm just here to get my mail! But SURE!" It was SO CUTE. So she was really sweet, she didn't have a Sharpie or anything but the girl had a bunch so she used hers, and then before she walked away I said "Megan! Will you sign this for me?" And she was like, "Sure! You know I'm not in the show anymore, right?" lol. I was like, "Yeah, I know!" And she signed my poster! I didn't ask her for a pic because I didn't want to keep her any longer, but how cool is that?!? I can't believe it! I never saw Megan as Glinda but I heard so much about her and it was still really awesome to meet her, especially under such chance circumstances! We figured she probably came at that time to see her friends, she probably never expected to be asked for autographs! But she was SO SWEET and bubbly, just like everything I'd ever heard about her. Me and the girl next to me seemed to be the only people who knew who she was, everyone else was probably just thinking "who the hell is that?!?" lol. But how cool is that?
Anyway, then Derrick came by again and my dad and I told him he'd signed for us earlier, and he smiled as he recognized us and said "okay" and moved along the line.
By this time it was getting pretty late, it was past 11:30. So people started to get impatient. Finally someone asked the guy standing there guarding the door if Glinda and Elphaba were going to come out. He said that Kate had already left, but that Eden should be on her way out. Then someone asked about Jenna and he said sorry, she already left as well. Everyone was a little disappointed about Kate, I know I definitely would have liked to meet her, but at least I met Megan! lol. And I also really would have liked to meet Jenna, but oh well. You can't get everything. By this point the crowd started to dwindle but there was still a really good number of people there at 11:45, an hour after the show had gotten out and Eden was still nowhere to be found. Again the guy assured us that she was on her way, so everyone started to get a little excited. Finally around 11:50 she came out, there were a bunch of poeple that came out with her and left, maybe family or friends that she had been entertaining, and her hair was wet so you could tell she had taken a shower, which is probably why she took so long. But get this, you know those shoes, the "Crocs", the rubber-like kind of loafer/galoshes things that everyone is wearing? Eden had them on in guess which color? Bright green! Everyone thought that was beyond cool. Anyway, she started down at the end further away from me and worked her way down, she was really sweet, people would ask for a picture and would say "of course!" She must have been so tired too, after doing two shows, and it being nearly midnight, but she took her time with every single person. There was one girl who said her name was Eden too and she thought that was really cool, and she chatted with her and told her she's only met one other person named Eden before, a girl working in the drive-thru at McDonalds in California, heehee. Then I was next! She was really sweet, she signed my poster and the playbill and then she posed for a pic with me. And then I gave her the flowers (I decided to just give her the green and the pink, since I didn't get to see Kate) and I just said something stupid like, "these are for you, I really enjoyed the performance." Sometimes I spaz around stars. And she seemed really genuinely touched, and thanked me profusely about 5 times, and she looked at the flowers and thought they were really pretty. I felt really good because no one else gave her anything. So then she moved onto the girl next to me, and it was really funny. The girl said "Will you sign my arm?" And Eden just looked at her like she was joking and said "For real?!? Are you sure?" It was so cute. And the girl was like "yeah, really!" So she was like "okay!" lol. But Eden was a total sweetheart, and I have great respect for the fact that she was soo nice despite it being so late after her second show of the day. She really made my night.
Me with Eden!
So then we left! -sigh- What an amazing experience. Here's my autographed goodies: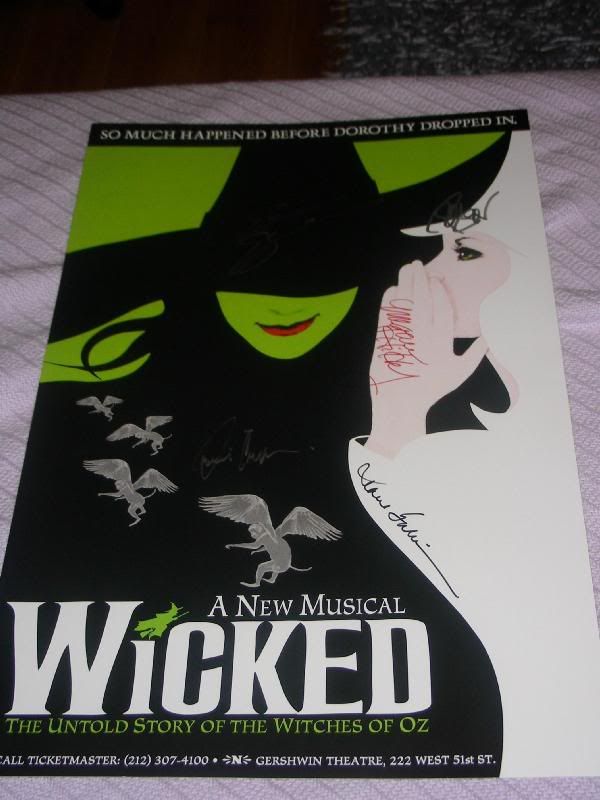 Poster! Signed by Eden (you can't really see from the picture for some reason, but she signed in silver on Elphie's hat), MEGAN (in the pink on Glinda's hand), David Garrison, Robb Sapp, and Derrick. I'm going to frame this and hang it on my wall.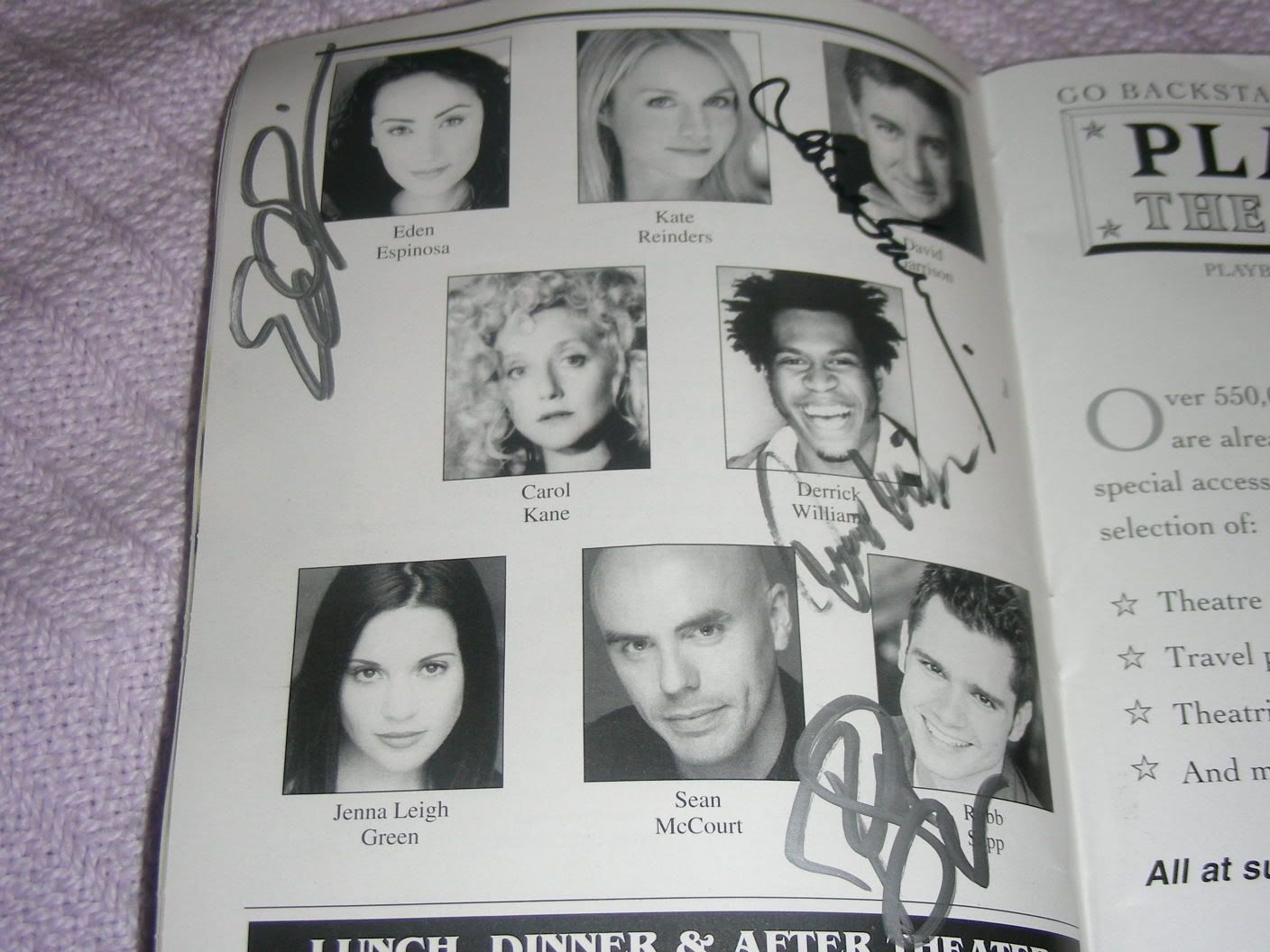 Playbill, signed by the same as above except Megan.
So, that's my story! I had an absolutely amazing day, again one of the best of my life just like the first time I saw the show.
Hope you enjoyed reading!
<3 Erin
x-posted to
wickedmusical
Current Mood:
happy